2016 KCA Brisbane Convention: Notable quotes from speakers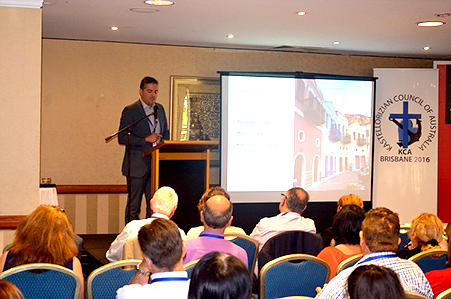 Dr Anthony Kiosoglou, Specialist Urologist, discusses Kazzie
achievement and challenges facing Kastellorizo today.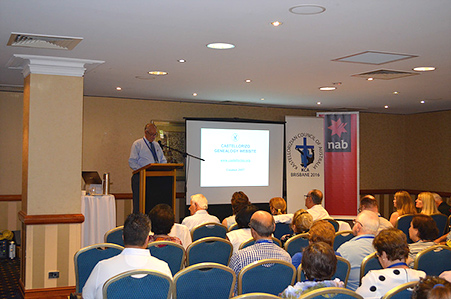 Australian and world Kazzie Genealogy expert Allan Cresswell,
gives the audience amazing insights into our family trees
and interconnections.
"Inside every Kazzie there is an innovator"
Peta Mandikos Tilse (QLD). Financial Services Professional and Innovator
"The best legacy we can leave is to pass on our heritage and culture to the next generations"
George Pizanis (NSW) NSW Castellorizian Club Board member and now President, KCA NSW delegate, Business owner
"Ideas without action plans and workers go nowhere"
Nick Lolatgis, President KAV ( Victorian report given on behalf
of Victorian President Dr Nick Lolatgis by Dr George Stabelos )

"They say people around the world have six degrees of separation. With Kazzies, it is one or two"
Allan Cresswell (WA)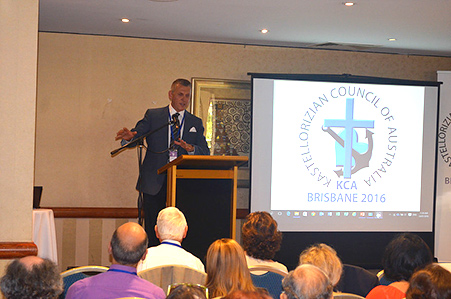 George Pizanis, NSW Board member and now President,
inspires all listeners.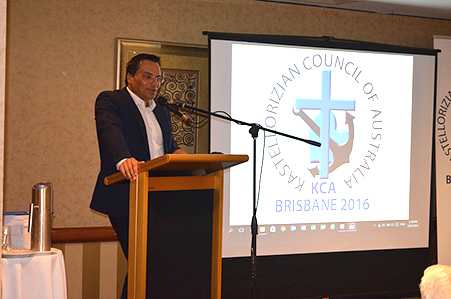 Michael Anastas, Kastellorizian and President of the Greek
Orthodox Community of St George, offers valuable insights
into culture and the future.
"The first question people ask when we are organising a youth function, is, who's going? What binds us together is our friends."
Rebecca Mangos (NSW)
"Through many hands, great things can be achieved; collaboration is the key, focus on families and youth is important."
Michael Anastas (QLD)
"We can collaborate with other similar organisations"
Jack Barbouttis (QLD)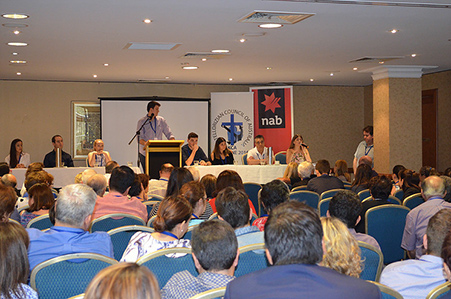 Younger Kazzies Q & A panel with backgrounds in Law, medicine,
accounting, financial planning, business, dentistry, arts discuss
the importance of heritage, culture and the future of Kazzies.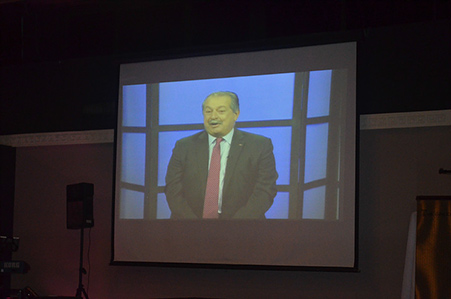 Keynote speaker Andrew Liveris, CEO of international corporate
giant Dow Chemical, via direct Satellite Link from Michigan USA,
with a presentation that inspired and sent a tingle down one's spine.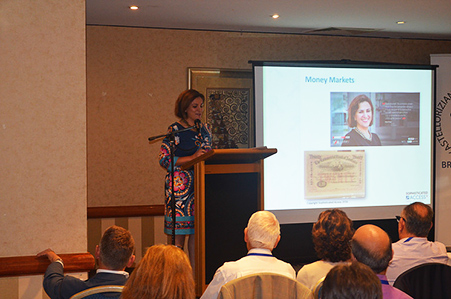 Peta Mandikos – Tilse, financial services professional, discussing
money markets and Kazzies as innovators.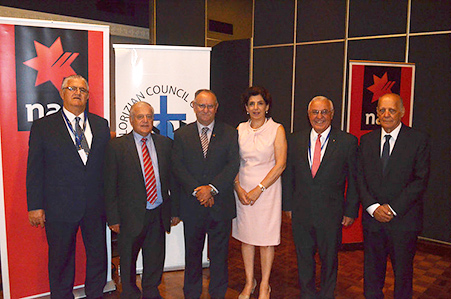 Keynote speaker Professor Byron Kakulas (extreme right) with KCA
President Yvonne Panagacos (centre), Conference Convenor Stathis
Efstathis (extreme left) and from left to right Judge (Ret.) John
Kiosoglou, KCA Vice – President Jim Manifis and Angelo Hatsatouris.

"Everyone is starving for culture"
Costa Yanardasis (QLD)
"I have come to see that this ROCK (Kastellorizo) is an icon of all that is resilient and strong and a beacon of strength to all Greeks and should be an inspiration to all Kazzies' and.. ONE CANNOT BUT CONCLUDE THAT NO MATTER WHAT NATURAL DISASTERS OR HUMAN EVENTS CAN BE THROWN AT US WE CAN SURVIVE AND THRIVE.THIS MESSAGE ALONE IS VERY POWERFUL AND AFFIRMS OUR DETERMINATION… OUR STRENGTH AND OUR CAPACITY FOR RESILIENCE OVER THE AGES. IT IS THIS CAPACITY TO ENDUR THAT MAKES ME THINK WE HAVE SOME OF THE ROCK INSIDE EACH AND EVERY ONE US."

Yvonne Panagacos, KCA President
"We are indebted to the Kastellorizians of QLD, the convention steering committee and especially the convention chairman, Stathis Efstathis for their outstanding efforts. They have made an enormous commitment to plan, prepare and stage this significant event in our history"
Yvonne Panagacos , KCA President.
"Maybe the younger generation needs to understand that Greece is not just the place yiayia and pappou came from or just a place for holidays. That it is encumbant upon Greek speaking parents to ensure their children don't lose the language (or culture or history)… that it is our responsibility to not lose touch with where we came from"
George Stabelos (VIC) Kastellorizian Association Victoria committee,
quoting Zoe Stokes- Paizis, a 15 year old from Melbourne with British and Ithacan parents.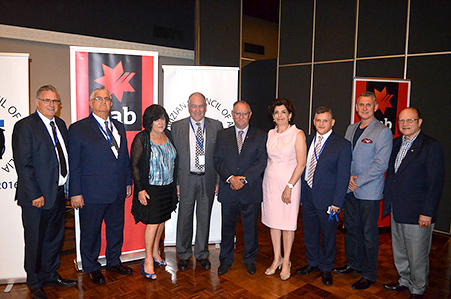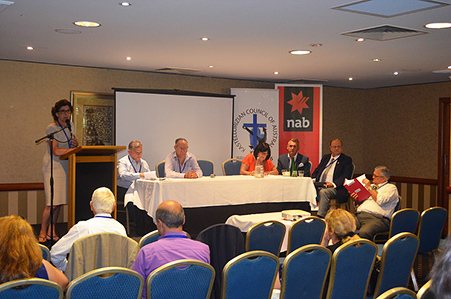 KCA – General meeting of State Delegates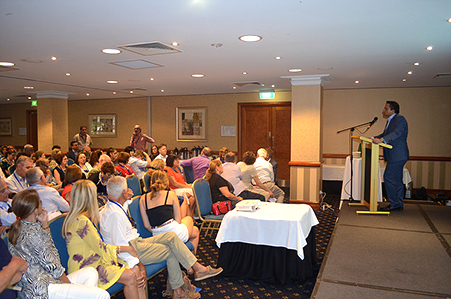 Kazzie Historian Nick Bogiatzis gives feedback to the audience as
listeners and Cconference speaker Michael Anastas looks on.
"Following the overwhelming success of the Conference and the Q&A session on the role of the KCA, I am now convinced that a national resource such as the KCA is necessary for the following reasons:
To provide an overall identity umbrella for the wider Australian Castellorizian family to discuss common issues including what is the future for our Societies.

To provide a forum where relatives and friends can meet and rekindle the widely spread relationships.

To provide a resource to all the Associations in dealing with the youth and their requirements, and how best to provide them with matters of their Castellorizian heritage.

To provide a national representational lobby to government for grants aimed at maintaining our heritage collections.
Unless we accept that we are a part of a wider family of Castellorizians we risk becoming silos in each State and as a result our youth will lose sight of their identity and our Associations will become irrelevant.
The Q&A forum with the youth made it very clear, that although they wanted to plan and arrange their own social activities they would like us to provide them with the resource of identity encompassing, culture, heritage, traditions, language etc. Without that, they may as well be just another group of young people doing their own thing, without the identity label of Castellorizian. "
Nick Malaxos- 2015 President NSW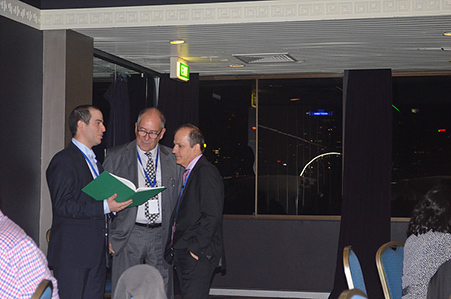 Kazzie participants share knowledge with Allan Cresswell.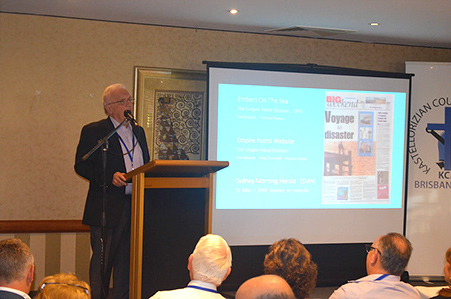 Dr Paul Boyatzis – expert on and survivor of the Empire Patrol
Disaster, gives the audience insights into this tragedy
in Kastellorizian History.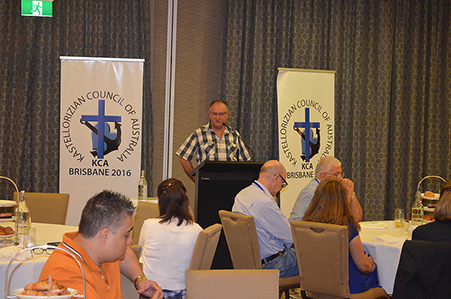 Mr Jim Manifis, KCA Vice-President, addresses the audience
at Bribie Island.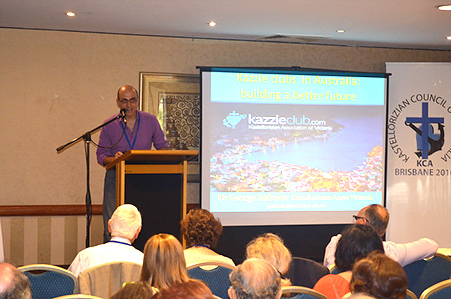 Dr George Stabelos, KAV committee member, discusses options on
how to build a better future for Kazzie Clubs in Australia.
"Any country's most valuable resource is its youth, not what comes out of the ground. For it is in the hands of our youth that the destiny of our country will ultimately be placed. Always try to consider fitting in honorary work, and make your local Kazzie Association your first preference. You will be surprised to know that the most recent survey by the ABS, revealed that out of our population of 23 million, 38% of women and 34% of men did some form of honorary work as part of their lifestyle. Volunteers make a valuable contribution to Australian society, they are an essential part of the fabric of our society. Giving your time willingly on an unpaid basis can be most inwardly rewarding and there is the opportunity to extend and enhance social networks. if you can volunteer in the long term, I call it long distance running, then so much the better.
Anything worthwhile does not come easy and is worth fighting for. Seek office if you are serious about making a difference..follow someone as a guide or mentor… but chose carefully.
Pull together..we can achieve more when we pull together and in the same direction… and further we will achieve more when we are not concerned with who will get the credit… do not be a limelighter..ie being out front taking curtain calls… be a worker in the background amassing results… think of the Kennedy ethic… do not look for what you can get out of your club… but look to what you can do for your club… and then you derive a warm inner & private
pride at pulling off a success."
Stathis Efstathis, OAM., Brisbane KCA Conference Convenor